On Sunday 12/8,
Don Criqui
called the Browns-Patriots game for
CBS
which extended his streak of calling at least one NFL game on network TV to a staggering 47 consecutive years. Criqui started calling pro football on CBS in 1967, and while he has seen limited NFL duty in recent years, he has yet to completely miss out on a season. He was not scheduled to work games this year, but got the call as a short-notice replacement.
This got me wondering about sizable consecutive season streaks by other announcers so I decided to compile a informal "record book" on a sport-by-sport basis. Who holds the consecutive season mark in various sports? Which active broadcasters are positioned to set a new standard? For the purposes of this post, I am looking at consecutive seasons where a booth announcer called at least one regular season or playoff game for the same sport on a national TV network. Besides the NFL, I looked at college football, college basketball, the NBA, and MLB. I listed the top 5 streaks in each sport along with other streaks longer than 20 that I found.
Note: I want to credit the
great collection of historical sports TV research over at 506sports
as a key resource for this post.
* denotes active streak
NFL
47: Don Criqui 1967-2013 * (but not expected to continue)
41: Pat Summerall 1962-2002
38: Charlie Jones 1960-1997
35: Dick Stockton 1979-2013 *
32: Frank Gifford 1966-1997
30: John Madden 1979-2008
29: Dan Dierdorf 1985-2013 * (but not expected to continue)
28: Al Michaels 1986-2013 *
22: Tom Brookshier 1965-1986
21: Dick Enberg 1977-1997
21: Marv Albert 1977-1997
21: Joe Theismann 1986-2006
Criqui holds the record across all the sports categories I have researched. He broke the previous record of 41 by
Pat Summerall
which still stands as the second longest streak across these sports. I am including the AFL, which puts
Charlie Jones
in third place. Pro football tends to have the longest such streaks with 6 announcers at the 30+ level. Assuming Criqui is done with the NFL,
Dick Stockton
will inherit the longest active streak.
Joe Buck
just misses the current cut at 20, but figures to move up on this list.

40: Keith Jackson 1966-2005
30: Brent Musburger 1984-2013 *
24: Bob Griese 1987-2010
24: Gary Danielson 1990-2013 *
22: Ron Franklin 1989-2010
Keith Jackson holds the college football record by a decent margin. His entire run came with ABC making his the longest such streak for the same network. Even though ABC moved him to the NFL in 1970 for the first season of Monday Night Football, Keith kept this streak alive by also calling a college game that season. Brent Musburger owns the longest active streak.
35: Billy Packer 1973-74 to 2007-08
35: Dick Vitale 1979-80 to 2013-14 *
32: Mike Patrick 1982-83 to 2013-14 *
32: Bill Raftery 1982-83 to 2013-14 *
30: Tim Brando 1984-85 to 2013-14 *
29: Brent Musburger 1984-85 to 2012-13 *
27: Jim Nantz 1987-88 to 2013-14 *
26: Larry Conley 1982-83 to 2007-08
26: Dan Bonner 1988-89 to 2013-14 *
23: Al McGuire 1977-78 to 1999-00
22: Ron Franklin 1989-90 to 2010-11
21: Jimmy Dykes 1993-94 to 2013-14 *
Dick Vitale
recently started his 35th season calling games for
ESPN
. This ties him with
Billy Packer
who called some NCAA Tournament games for
NBC
in 1974 and 1975 before becoming the analyst for the inaugural regular season college hoop package in 1975-76. If I were to count syndicated national telecasts, then the Packer streak would extend backwards one more season and be at 36. Several announcers on this list remain active. Vitale of course holds the longest active streak and
recently expressed visions of extending the streak to 50 years
. Musburger, who also appears on the CFB list, will make it 30 years on each sport once he calls a game this season.
Ron Franklin
also appears on the same two lists.

34: Tim McCarver 1980-2013 * (but not expected to continue)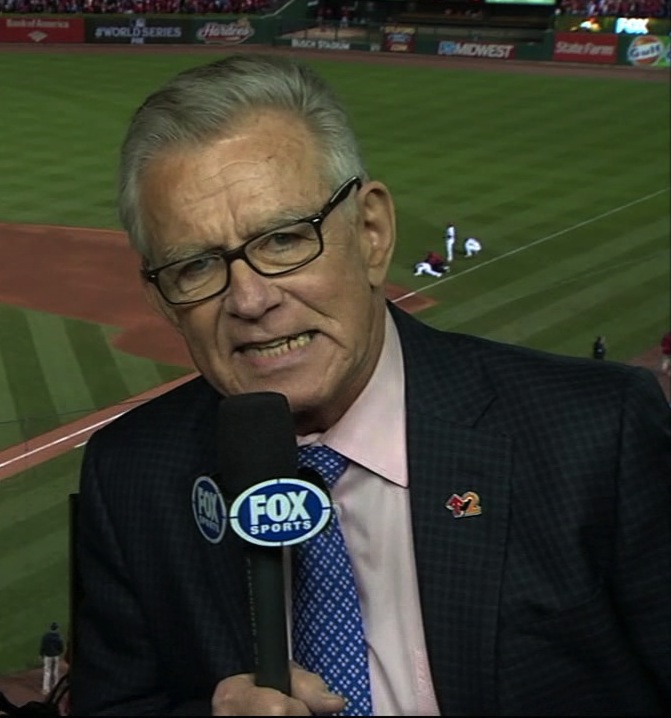 26: Joe Morgan 1985-2010
25: Jon Miller 1986-2010
24: Tony Kubek 1966-1989
24: Chris Berman 1990-2013 *

Tim McCarver departs the network TV scene with a 8-season lead in the MLB category. Chris Berman becomes the active leader at 24 seasons. Joe Buck sits at 18 just 9 years away from the #2 spot on this list.


Special note: The remarkable Vin Scully is preparing for his 65th consecutive season in the Dodgers TV booth. However, because this post deals with streaks on national TV networks, he doesn't make the list.
21: Steve Jones 1987-88 to 2007-08
19: Kevin Harlan 1995-96 to 2013-14 *
18: Hubie Brown 1984-85 to 2001-02
18: Dick Stockton 1995-96 to 2012-13 *
17: Mike Breen 1997-98 to 2013-14 *

The NBA has the shortest streaks of the sports covered in this post. Steve "Snapper" Jones holds the current mark for his work on TBS, NBC, ESPN, and NBATV. Kevin Harlan has the longest active streak and will likely set the NBA record in a few years. Hubie Brown would presumably hold the record (by a wide margin) had he not left the TV booth to coach the Grizzlies for a few seasons. Marv Albert does not make the list due to the 1997 firing by NBC resulting in his absence from the national TV airwaves for a few seasons. Stockton also appears on the NFL list.